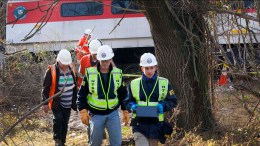 Safest Seat/Cabin On A Train, Plane and Cruise Ship
(This article is re-published, at our readers requests,  given the recent horrific and deadly
crash of a Manhattan-bound Metro North train, early this past Sunday morning, December 01, 2013
.   Our deepest condolences to the families and loved ones of the victims, identified as  James M. Ferrari, 59, of Montrose, N.Y.; Kisook Ahn, 35, of Woodside, Queens; Jim G. Lovell, 58, of Cold Spring, N.Y.; and Donna L. Smith, 54, of Newburgh, N.Y.  May the many injured, several critically, recover quickly and fully.)
While bearing in mind that passenger travel  is generally quite safe,  over the years,  statistics compiled yield the below information in regard to seat/cabin selection as it relates to travel safety.
The safest seat on a:
Railroad Passenger Train
:  Is a car or two ahead of the rear car.  According to the U.S. government's transportation accident review authority, the 
National Transportation Safety Board (NTSB), 
a  majority  of 
passenger rail
 mishaps damage the front cars; secondly, the middle in derailment situations; with the least damage occurring to the near to end cars.  Of course, in the case of a front to rear collision between two trains, the first train will suffer rear car damage, obviously, the first car(s) of the second train will suffer the most damage but these are the rarest collision types.  Final tip: choose a rear facing seat (in the direction of travel).  In a crash, you won't be thrown forward.
Airplane
:  A recently published 
Popular Mechanics 
study concludes that, in an airplane crash, 69% of rear cabin passengers are more likely to survive than those in the front rows (generally the first and business classes or in all-coach flights, the first 15 rows).  In the same situation, over the wing seat passengers experience a 59% survival rate, which then drops dramatically to 49% for those in the aforementioned front rows.
The safest cabin on a:
Cruise Ship
:  From the 
Cruise Critic
, mid to upper cabin, facing outward, in the ship's aft (rear) section.  Cruise line accidents, while extremely rare, tend to damage the hull (usually in the  front part) first, thereby exposing the lower and inner cabins to immediate flooding as well as by positioning alone, these cabins have more restricted avenues of escape.
In that travel is inevitable, and,  according to 
Rebirth of Reason
, staying at home is not an option, travel smartly and also be conscious that the vast majority of motorized commuter vehicles are well-maintained and inspected, and again, are generally safe.
BNI Operatives: Street smart; info savvy.
As always, and especially when traveling, stay safe.
Filed under: General Information | Leave a Comment »